Of All the White Sneakers That Exist, Selena Gomez's Are the Easiest to Wear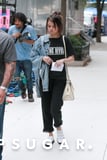 Selena Gomez owns plenty of white sneakers. She's got her designer pair, the Louis Vuitton Frontrow shoe with a gold logo clip-on, distressed Golden Goose low-tops, and Puma high-tops designed by her boyfriend, The Weeknd. But perhaps for working days, Selena prefers something easier to slip on and off. Enter her Velcro footwear with a contrast sole. The singer and actress wore them to the set of her new Woody Allen movie in New York City.
Her outfit was altogether pretty casual - frayed black sweatpants, a graphic t-shirt, her namesake Coach Selena Grace bag, and a denim jacket half swung on her shoulder left us zeroing in on Selena's fresh kicks. With the wide variety of similar options out there, we see no reason not to invest in a throwback style that remind us of our preschool days, when tying laces were of no concern.